Chaitra Navratri is a festival and a complete set of 9 days and night religious ceremonies dedicated to nine avatars of the goddess Durga.
Not only are Indian devotees showing love, respect, dedication while completing all religious rituals, but the world is also freaking excited keeping their eyes on people's dedication for goddess Durga as a womanhood silhouette. However, it is widely celebrated in the entire nation, Eastern part of India: specifically, West Bengal that is totally famous for Durga Puja.
Strictly fasting, adoring 9-year-old girls, feeding the entire nation (Bhandara), and worshipping nine versions of Durga on alternate days is all too much for the foreign world.
Let's see how 2021 is welcoming all nine days of Navratri!
Devotees begin recognizing avatars of the goddess Durga, working on the 'Kalash Stahapana' on the first day of Navratri, and place a large amount of Jawar (Millet) seeds around the house's religiously symbolized pot (Kalash).
Because the timing of Abhijinh Muhurat changes depending on location and family customs, you should perform your Kalash Sthapana according to the Mahurat. PANCHOPCHAR or Shodoshopchar (diayas, rice, flowers, and fragrances) should be used to worship Maa Durga.
Navratri is a powerful symbol for all Indian women because these nine days demonstrate how Indians bring respect, love, and worth to women by worshipping all avatars of goddess Durga. Let's expand our knowledge by becoming completely devoted to inspirational avatars of the goddess Durga, and how her various avatars are spreading positive vibrations throughout womanhood.
Day 1. October 7 – Shailputri Puja
Day 2. October 8 – Brahmacharini Puja
Day 3. October 9 – Chandraghanta Puja
Day 4. October 10 – Kushmanda Puja
Day 5. October 11 – Skandamata Puja
Day 6. October 12 – Katyayani Puja
Day 7. October 13 – Kaalratri Puja
Day 8. October 14 – Mahagauri Puja
Day 9. October 15 – Siddhiratri Puja
First Day-Navratri (Pratipada)
Shailputri (First Avatar): Goddess of courage, strength, and calmness. The mother goddess gave birth to Lord Himalaya's daughter after self-reformation in the shape of Sati. Because Shaila means "mountain" in Sanskrit, this form is known as Shailputri, or "mountain's daughter."
On the day when the goddess Durga, who is known for her fearlessness, power, and peacefulness, was honoured, her avatar represented not only herself, but the entire female gender. And today is the day to learn about 9 avatars of the goddess Durga, with her first form serving to teach women who are always dealing with fear, inequality, alienation, and self-doubt.
The following is Maa Devi Shailputri's adoration and mantra chant:
"Vande Vanchitlabhaya Chndrardhkritshekhram. Vrisharodhaam Shooldharam Shailputreem Yashasvineem. Mantra: Om Shailputraye Namah.""
Second Day of Navratri (Dwitiya)
Bhramcharni (Second Avatar): Goddess Durga, in her Bhramcharni avatar, holds a "Kumbha" or water pot in one hand, and Rudraksha is her most ornamented jewelry. Bhramcharni is considered a symbol of the treasury of intelligence, as well as a personification of love and loyalty.
The mother goddess gave birth to Sati, Daksha Prajapati's daughter, who was destined to marry Shiva after her change into Kushmanda. From the nine avatars of the goddess Durga, the unmarried version of the mother goddess Durga is known as Bhramcharni.
Her Bhramcharni image delivers a message to the female community that a woman is meant for marriage and forming a new family, but she also needs to love, support, emotionally care for males in order to bring forth new generations.
Mantra chant for Bhramcharni (a form of goddess Durga) :
"Dadhana karpadmabhyaamakshmaala kamandaloo. Devi praseedatu mayi brahmacharinyanuttama"
Third-Day of Navratri (Tritiya)
Chandraghanta (Third Avatar): Like a refreshing breeze on a moonlit night, Chandra + Ghanta, representing the highest bliss and knowledge, showers calm and serenity.
Goddess Durga began wearing a half-moon (Chandra) shaped like a bell (ghanta) on her forehead after she wedded Shiva, earning her the name goddess Chandraghanta. In Kanchipuram, Tamil Nadu, India, Maa Durga is worshipped from the different avatars of the goddess Durga.
Goddess Durga is demonstrating her love, respect, and dedication to Lord Shiva by being his dependable wife in the Chandraghanta creation. And she is educating all women that we are half of our husbands and that without us, they will fade or be unable to protect the globe (our own house) on their own.
Mantra chant for Chandraghanta (Third Avatar of Durga):
"Pinjapravararudha chandkopastrakairuta. Prasadam tanute maham chndraghanteti vishrushruta"
Fourth Day of Navratri (Chaturthi)
Kushmanda (Fourth Avatar): A goddess of creativity. Kushmanda, who has eight arms and wields weapons as well as a mala or rosary, begins his devotion on the fourth night. Her mount is a tiger, and she glows like the sun. Being conscious of cosmic delicacy in the human race or observing cosmic vivacity in the shape of a Pindi is referred to as "Kumbh Bhand."
According to tradition, the mother goddess began living within the sun after taking the form of Siddhiratri among all avatars of the goddess Durga, thus liberating the sun's energy to the universe.
Maa Durga's avatar sends a message to the entire globe that womanhood can inspire millions, or they can give birth to a kid and teach her a lot, making them an inspiration personality or a symbol of inspiration to the rest of the world.
She was always shining to the world dwelling in the sun after assisting Lord Shiva in the shape of Siddhiratri in the construction of the universe.
Maa Durga's embodiment as Kushmanda is worshipped on the fourth day of Navratri. The following are its mantras and meditations:
"Surasampoornakalasham rudhiraplutmev cha. Dadhana hastpadhyabhyam Kushmandashubhdastu me"
Fifth Day of Navratri (Panchami)
Skandmata (Fifth Avatar): Goddess of skills, purity, endurance, and sympathy. She holds her kid, SKAND or KARTIKEYA, in her lap while displaying three eyes and four hands. According to tradition, goddess Skandamata is a form of Lord Kartikeya's (God of war) mother.
As the mother of Skand (the god of war), and different from her avatars of the goddess Durga, she spends the fifth night trying to teach every one of her devotees that they should be the first teachers for their own children and that they should help them improve their own skills so that they can be stronger fighters on the battlefield of life.
Mantra dedicated to Skandmata is as follows:
"Singhasangata nityam padmashrit kardhya. Shubhdastu sada devi skandmata yashasvini"
Sixth Day of Navratri (Sasthi)
Katyayani ( Sixth Avatar ): Goddess of healthier relationships. Durga took the form of Katyayani to destroy the demon Mahishasura. She's a golden hue, is riding a lion with three eyes and four arms, two of which showing a sword, and a lotus is in the other, and the other two hands make protecting and granting gestures, respectively.
Different from the 9 avatars of the goddess Durga, she is spreading the message that a woman can be both a demon destroyer and a loyal partner in her life cycle, depending on the circumstances.
Mantras dedicated to Katyayani are as follows:
"Chandrahasojalkara shardulvarvahna. Katyayinishubham dadha devi daanvaghatini"
Seventh Day of Navratri (Saptami)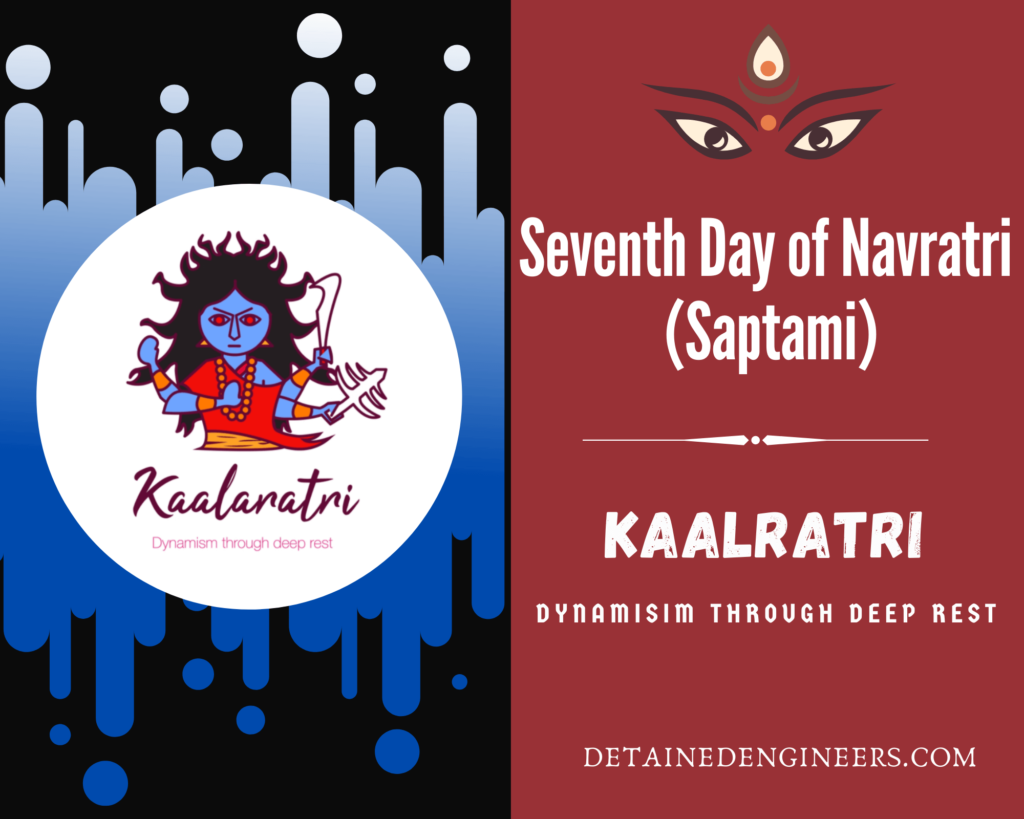 Kaalratri (Seventh Avatar): Goddess of Dynamism.
Kaalratri is the seventh form of Nav-Durga from her avatars of the goddess Durga, which means scourer of darkness; opponent of darkness. She is the remover of darkness and ignorance. If you want to exhibit your sincere devotion to Goddess Durga, especially her Seventh Avatar, you must travel to Calcutta, India, where the Kaalratri shrine is located.
To battle the demons Sumbha and Nisumbha, Maa Durga assumed this shape, which gave her a black complexion, thick hair, and four hands. She is showing her four hands while riding on a trustworthy donkey, two of which represent a cleaver and a torch, and the other two representing "giving" and "protection."
The list of 9 avatars of the goddess Durga, in her Kaalratri incarnation, sends a message to all her followers that a woman can be a fighter, a destroyer, and a peacemaker by eliminating all demons in society or those who cause the world at destruction.
Goddess Durga, in her avatar form, teaches that your ladies can be symbols of soft hearts in good times, but in terrible times, they can protect her entire family or even fight with the enemies.
Kaalratri's Mantras are as follows:
"Ekvedi japakarnapura nagna kharsthita. Lamboshthi karnikakarni tailabhyakt shareerini. Vaampaadillsallohalta kashtakbhushna vardhanmoordhdhvaja. Krishna kaalraatrirabhayankari"
You can also see here 10 Most Popular Stars From Ott Platforms in India
Eighth Day of Navratri (Ashtami)
Mahagauri ( Eight Avatar ): Goddess of Wisdom.
The four arms of Durga Shakti have the fairest complexion of all the Durga Shaktis. She is often depicted riding a bull and holding a drum and a trident, and her appearance exudes peace and compassion, and she wears a white or green sari.
According to legend, goddess Durga gifted her with a fair complexion at the age of 16 when she was recognized as Shailaputri, which led to her transformation into Mahagauri.
Her devoted night, the eighth ritual night is recognized for her beauty, kindness, and love, which not only reflect her personal persona but also bring forth positive spiritual feelings in the entire female community by raising her slogan or shouting loudly with so much love, passion, and spirit. It indicates the incredible 8th avatar from the list of all avatars of the goddess Durga.
Mantras are as follows:
"Shvete vrishaye samaroodha shvetambardhara shuchi Mahagauri shubham dadhaanmahadevprmodad"
Ninth Day of Navratri (Navami)
Siddhiratri ( Ninth Avatar ): Goddess of perfection and enlightenment.
Siddhiratri has showed up on a lotus with four arms, and she has 26 particular wishes to give her bhakts. The exact pilgrimage location of Siddhiratri is widely acknowledged in the Himalayan town of Nanda Parvat for all devotees.
The following is a short narrative that explains why goddess Durga among avatars of the goddess Durga, became Siddhiratri: Lord Shiva requested Adi Shakti, who was formless, to help in the formation of the universe, and thanks to his efforts, Shiva discovered her left portion had transformed with pure energy, which became the Goddess form: Siddhiratri.
Women gain enormous vitality while worshipping Durga in her Siddhiratri avatar, and they understand how a woman is capable of creating the entire cosmos; thus, it is impossible to imagine a world without a woman's involvement. People realize the importance of a woman's responsibility in establishing a good home for the next generation while raising slogans for Durga, especially on this night.
However, we must all adhere to the facts and work hard to teach the entire society that there should never be any unequal behavior between your son and daughter since without a girl, we cannot assume a world's future. How would we all be able to construct the world if Lord Shiva was unable to do so without the assistance of Adi Shakti?
Meditation and Mantras devoted to Siddhiratri are as follows:
"Siddhgandharvayakshadhairyesurairamarairpi Sevyamana sada bhuyaat siddhidha siddhidayani"
Overall Conclusion
The ten nights dedicated to a feminine figure or inspiration from pure Hindu religious rites are not only symbolic of goddess Durga and her nine avatars, but they also offer numerous life lessons to their believers. The pure forms are worshipped with sincere love and respect, prompting the worshipper to undertake some significant actions in order to transform the devilish aspects of society by giving more authority to women.
The severe reality of womanhood in the country is not uncommon; many women are in fewer numbers, have less equality, and have no rights to speak out for social change, which looks to be the polar opposite of Maa Durga: the inspiring woman goddess. So, during Navratri, don't only sing all of her slogans; make them a part of everyone's lives, raise your voice, and battle against demons to bring about a new transformation in the world.
You also can see here 10 Popular Self-made Bollywood Stars who Really Empower the Industry
You also can see here Top 10 Sensational and Stunning sexiest women in the world 2021