Today, being in the list of inspirational women 2021, you don't have to be a dream achiever, nor do you be an Instagram influencer, and please you really don't need to show your mercy to any poor pedestrian in your town. But what about those real facts that we're missing why some most prominent ladies are lying on top of millions of online pages, international magazines, and in the best-selling books around the world.
We would simply say about their own life struggles that they learn by because it is a very famous quote circling around us that says, we have to face a struggle in our life to understand it better and those who can survive or are even willing to change, helps others to faith in life after lots of difficulties, taught womanhood that how strongest you're as in worst part in your life.
We listed here some real-life wonder women, who hit the world by their own survival skills in the manhood world:
Oprah Winfrey
Oprah Winfrey, author, actress, television producer, American talk show host, and philanthropist, earned the title of first Black American Billionaire in 2003, which is still an unbelievable achievement for being an African American inspirational woman for millions. Racism was the first cause for many riots, protests, and fights in the last 100 years in American history, and it is still going on in American high-class society. Being an African American, It's still really hard to get normal benefits from government officials or local authorities to support your business, purchase nice property in America.
However, Oprah Winfrey's story is really convincing as inspirational women 2021 icon for millions of others humiliated-blackish people, she is inspiring others' breed as well because if she can wear dresses made of potato sacks in her childhood and earned top-branded clothes in her life, why can't anyone in the world. Some unforgettable inspiring words by Oprah, are:
"Think like a queen. A queen is not afraid to fail. Failure is another steppingstone to greatness."
"Every time you state what you want or believe, you're the first to hear it. It's a message to both you and others about what you think is possible. Don't put a ceiling on yourself."
"Create the highest, grandest vision possible for your life, because you become what you believe."
Malala Yousafzai
Malala Yousafzai, a Pakistani girl activist, educational hero, and Nobel Peace Prize winner who has suddenly emerged as a human inspiration around the world, is motivated by her society's right to education.
Who would know Malala as inspirational women 2021 if she wasn't shot a bullet in her head for simply asking for study by a famous illiterate community of the world, 'Taliban'. Well, Malala understood more about her religion better than those who nominate themselves as extremists of the religion, and she tried to question the rules of education for womanhood as per Islamic guidance but she didn't get any specific answer instead of a bullet that could carry her near to death.
However, she survived after such a scary moment for anyone in their life, but her mind power toward the right believes alive again in the world and she got her life mission as an inspirational woman to fight back against her uneducated community.
However, she was alone when she took her first step toward making a big change, but soon after she received strong support from the rest of the world, which helped her become the inspirational women 2021 because it was not only her story of a woman who lost her education due to the restrictive culture created by the manhood world for all women around the world.
Before winning the youngest Nobel Prize in 2014, Malala was noticed by top leaders of the world, includes UN Secretary-General Ban Ki-moon, Hillary Clinton, Barack Obama, British Foreign Secretary, William Hague, Angelina Jolie, and a dedicated song "Human Nature" by American singer Madonna.
Ashley Graham
Ashley Graham, American model and television presenter, made history as the first plus-size model to grace the cover of Vogue in 2017, answered to millions of people who were quick to mock a girl for her big-fat figure. Her remark brought a big change in the world because fat women were always considered to be unhealthy, ugly, and unfit for top-trendy fashion outfits.
The list of her achievements is huge and before hired for the name in inspirational women 2021, she had appeared in Bust magazine, Levi's campaigns, Boyfriend Collection, Marina Rinaldi campaigns, Harper's Bazaar, named for the Full-Figured Fashion Week's Model of the Year in 2012; In 2016, she became the first plus-size model to appear on the cover of the Swimsuit Issue.
However, Ashley received much applause for her own body-positive, she never celebrated it alone and always tried to express her inspirational words to every girl who look fat. She spoke in public and at many platforms of talk shows about how to every woman can be beautiful at any size.
In an interview with Vogue, this well-known icon who recorded on inspirational women 2021 list worried about fashion industry belief system and said, they acknowledge her appearance as a plus size model, but she thinks it is only her size and she loved it.
Mary Kom
Chungneijang Mary Kom Hmangte, generally known as Mary Kom, is an Indian boxer, a Minister, and at present a Member of Parliament in Rajya Sabha. She is an Eastern-Indian breed who made history by becoming the first Indian woman boxer to win a gold medal at the Asian Games in South Korea in 2014; she also won gold at the Commonwealth Games in 2018 and finished first in her division that made her top-rated icon for leading inspirational women 2021.
However, she earned Padma Bhushan, Padma Shri, Rajiv Gandhi Khel Ratna Award, Arjuna Award as her dream goals by her own country, her biopic movies filmed by Priyanka Chopra in 2014 transformed her life story into an inspirational woman saga. Her biographical movie expressed a lot about her early life struggle, patience, and her never losing humor in any situation inspired millions of women to dream something big with consistently battling with self-humor and winning dreams after being a woman, a mother, and a wife.
Kalpana Chawla
Late Kalpana Chawla was the first woman of Indian heritage to go to space, but she was also an American astronaut and engineer who is still remembered for being on the list of inspirational women 2021. Not only she was, but still, her father is known as a symbol for inspiration by letting her daughter fly high for her dreams. However, she belongs to a nation where millions of parents are still considering their daughters to live inside the house and understand home responsibilities first in their life, Kalpana reached into the space between uncounted shinning stars as she promised herself in her childhood that one day she will go beyond and touch those shining stars.
In 1988, Kalpana started her dream journey with the NASA research center and got selected for her first flight to space in 1996 but it took almost a year to step into the earth, and on 19 November 1997, she flew along with six astronauts in the 'Space Shuttle Columbia flight STS-87'.
She flew for the second time in 2003 but was tragically died along with the other six members of the Space Shuttle Columbia disaster, and Indian women lost a role model who is still remembered in millions of hearts.
Kalpana becomes an inspirational woman with her incredible work and answered for those parents who compare their children as per gender differences and who stopped their daughters not to look beyond her restrictive boundaries.
J.K Rowling
J. K. Rowling, sometimes known as Joanne Rowling, is a British author, screenwriter, film producer, and still best as other inspirational women 2021 . Rowling is most recognized for her work on the Harry Potter series, which has sold over 500 million copies and is the highest-selling book series in history. She admitted herself into a horrible predicament after ascending to the position of the world's most renowned person.
Rowling began writing shortly after coming up with the idea for Harry Potter, but she was unexpectedly diverted by the untimely death of her mother, which threw her into deep despair, and she couldn't help but sabotage her writing abilities day after day.
Following the huge success of Harry Potter, Rowling's writing career began to deteriorate, and she was forced to take a teaching job in Portugal in the hopes of making positive changes in her life, but nothing changed. She struggled with severe depression on several occasions, a child's responsibility on her shoulder that led her from authoring historical book series to working as a café employee.
She had to deal with rejection on a regular basis and was continuously pushing for success. Rowling's dedication to her noble writing practice, as well as her ability to endure in the face of rejection, made her inspirational women 2021 to a worldwide audience.
Jacinda Ardern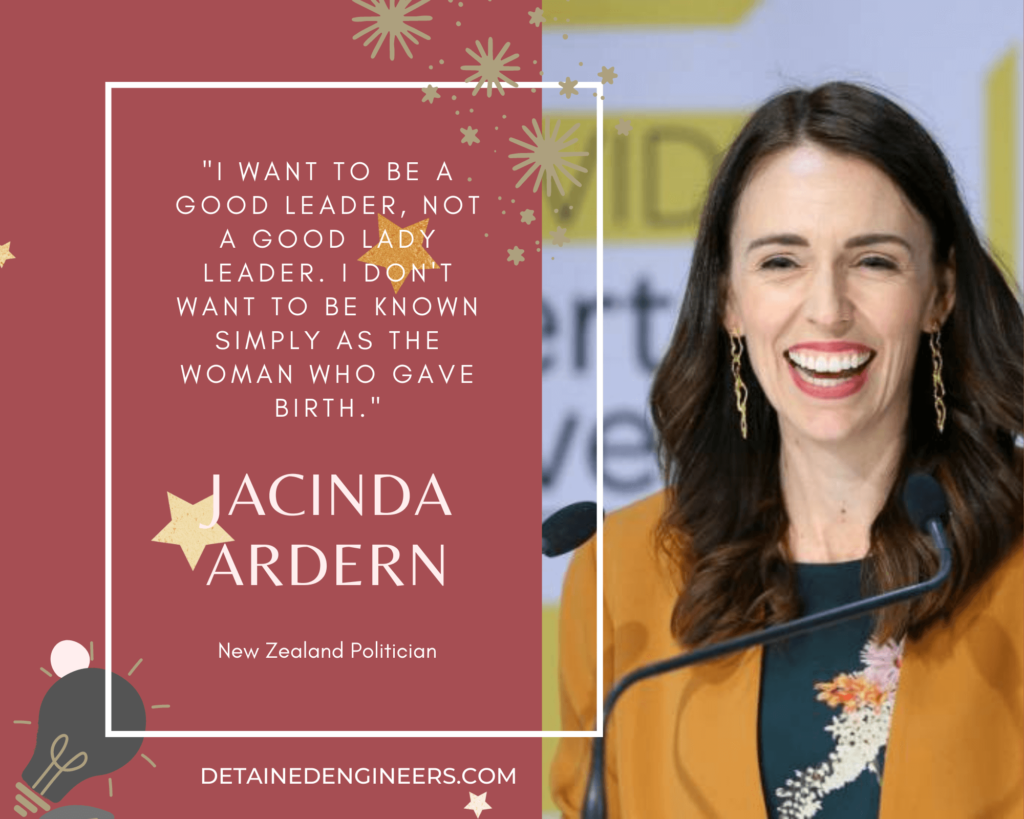 New Zealand found her first prime minister as Jenny Shipley, she was born on July 26, 1980, and she is not only in the list of inspirational women 2021, but her decent, honest, and faithful appearance recently made her the world's youngest leader.
But, as New Zealand's prime minister, she perfectly summed up the country's grief when she paid a visit to members of the Muslim community in the aftermath of a terrorist attack on a Christchurch Mosque in 2019, which killed at least 50 people. She wore a Muslim hijab to convey to the world that she was very upset by the tragedy, demonstrating her best inspirational women 2021 personality.
It showed something unique and undeniable: here was a leader who lived the values of the country she represents and inspired millions of people all over the world to fight hate and war.
You can also see here 10 Most Popular Stars From Ott Platforms in India
Muniba Mazari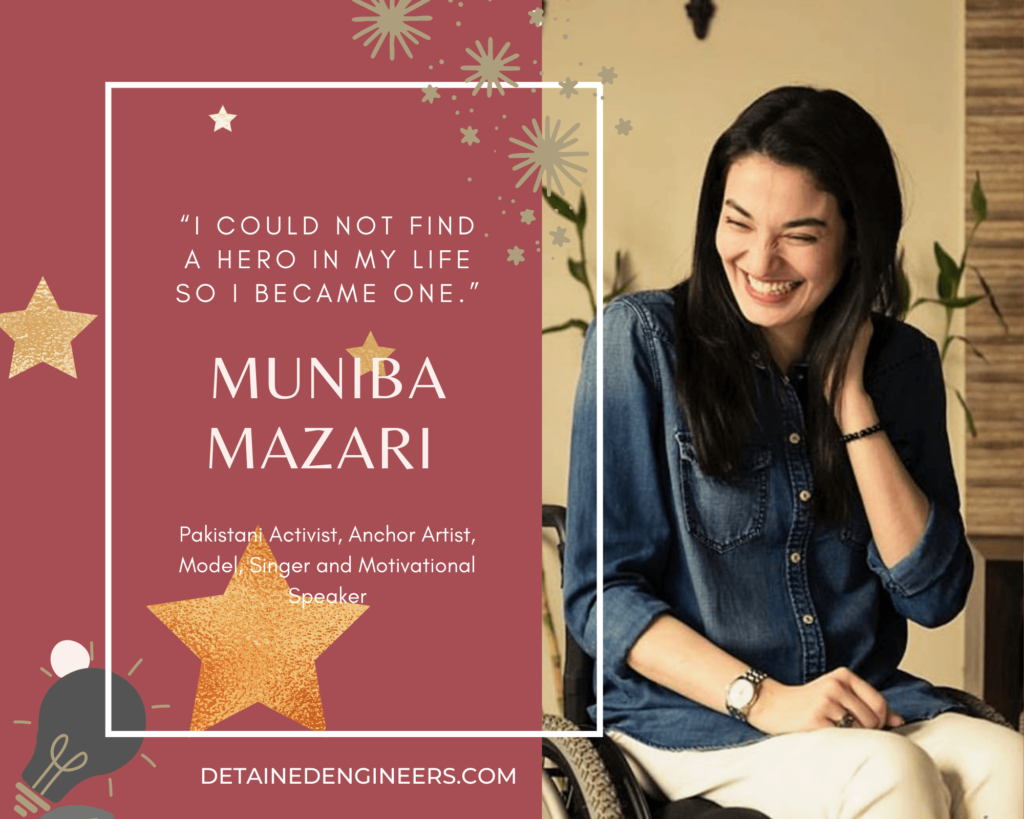 Muniba Mazari is widely knowns as the "Iron Lady of Pakistan", and got 100 Most inspirational figures in 2015, and by naming one of the British Broadcasting Corporation.
Well, it's important for us to understand why a common Pakistani woman named in the world's topmost inspirational women 2021 icon is battling and gaining positivity when no one could tell her how she would spend the rest of her life after a tragic car accident left her completely paralyzed and caused multiple fractures in her shoulder, arms, collarbone, and rib cage.
Another set of upsetting news was that she would be unable to walk due to her spinal injuries and would also be unable to give birth. And so began her journey of self-acceptance, which she carried with her smiley face as she greeted everyone who came to her house to see her, perplexed as to how we could be happy in her life after such a traumatic event.
Mazari's powerful mind aided her greatly by convincing her that she would never be ideal for anyone, and she began to overcome all of her anxieties, including those related to losing money, sicknesses, and living in the worst conditions possible. It took nine years for the world to be inspired by Muniba's personal struggle, but she unlike others inspirational women 2021 is never hesitant to tell her story and teach others how to stay optimistic in the face of adversity.
Our Conclusion
So the next time you find yourself in a severe or unimaginative change in your life, just remind yourself of how potential, sincere, energetic, and positive you are. Perhaps someone is looking at you and is quickly inspired by your incredible achievement after a long battle with your emotions, inner negativities, and a desire to shine as a star symbol once more: today.
You also can see here 10 Popular Self-made Bollywood Stars who Really Empower the Industry
You also can see here Top 10 Sensational and Stunning sexiest women in the world 2021