Shining Stars who broke the chain of Nepotism
Well, it's interesting to know that unlike other self-made Bollywood stars some famous actors and actresses were cast by their own family support in the industry. Although some newly added stars kids achieved good rank by their super creative acts, some had lost their existence after a few movies they worked in. But if some aspirant, belongs to a non-filmy-forefather's background and wants to be a star in the Bollywood industry then can easily resume their confidence, energy, and positivity for being an outsider by getting more about our top-rated stars those stills breaking Nepotism belief in Bollywood.
Not even today but from the beginning of days of Bollywood's top film directors had felt some pressures over their shoulder to complete big-budget movies with newly added Star's kids, and sometimes it was audiences first wish seeing these kids on the screen. The Time-after-time industry is overwhelmed by such pressure over its backbone, but let me tell you that abilities and skills are God-gifted and we can say this by analyzing many real stories of self-made Bollywood stars who were from the alien world for this Industry.
Well, it's a big reality for the world that appears after the biggest shocking news about Sushant Singh Rajput and his shocking death became the biggest controversial element in entire Bollywood. The media raised the truth about Nepotism and invest more time to investigate how non-filmy-background artists facing so much bad behavior in the industry. We are here today, came with some self-made bollywood stars and their inspirational stories that will show that being an outsider is not unfortunate for many newcomers.
Let's see more about our favorite actors and actresses whether they are 'Super Star's Kids' or 'Self-made Bollywood Stars'?
Shahrukh Khan
Who can overlook Sharukh Khan's life and marvelous Bollywood journey that he started from his first TV role in Dil Dariya (1988) and in Fauji (1989)? And he got his first big break in 'Deewana' that changed his life completely. Who had thought that a Delhi college passed out and a newly married person would be a superstar in the future? His inspirations still enlighten the dreams of thousands of acting lovers of common families or those who still believe that a person needs a link in the acting industry. Millions of Bollywood newcomers take Shahrukh's life journey as a big inspiration for themselves whenever they feel unmotivated.
Apart from 'Dil To Pagal Hai', 'Yes Boss', and 'Dilwale Dulhania Le Jayenge', his two big achievements by the negative role played in the movies — Baazigar and Darr are inspirations for new artists that anyone can mark their acting sign even by his negative role in the movie as a tagline of an 'Anti-Hero'. This means we can inspire millions through our best work whether it's negative or positive. He is the super example of self-made Bollywood stars.
Anushka Sharma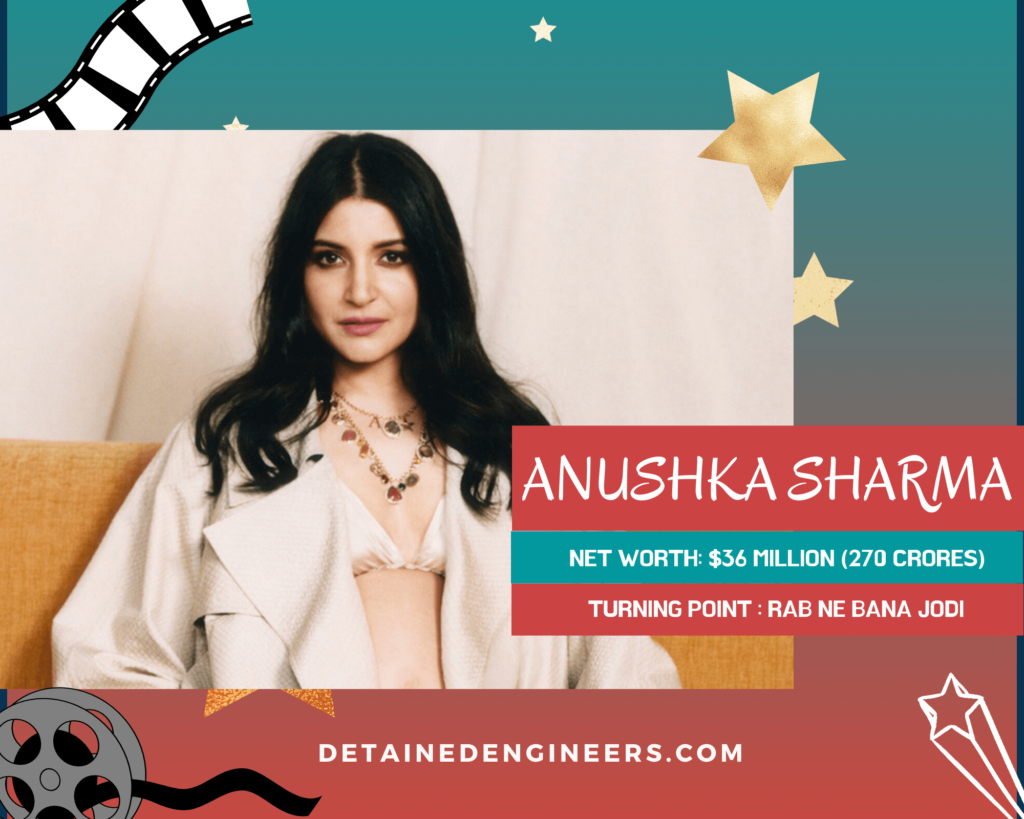 Born in Ayodhya, brought up in Bangalore, Anushka Sharma started her career journey in Mumbai as a fashion model in 2007, but she never thought her first successful romantic movie dragged her foot to the top-rated actress in Bollywood and would find a husband as a player of all time in history.
Anushka's journey can easily say to millions that when there is will then there is hope for you and you have to believe that anything can happen in your life, and you can achieve anything if you wish for it, you can be the next self-made Bollywood stars like her. 'NH10' and 'Sui Dhaaga' are some short budget films that show her amazing confidence along with her incredible acting skills.
We must say, non-filmy-family's actors and actresses, like Anushka Sharma, are never afraid of losing their high-ranking position in the industries and they do what their heart wants nailing their acting abilities and inspire their followers.
Nawazuddin Siddiqui
Nawazuddin Siddiqui, a name that we have to remember whenever we saw a new ad popping over pocket screens. Many times, we never paid attention to some commercial tv ads that were truly a part of today's big stars' struggling life because they had non-filmy-forefathers, but when we start learning more about our self-made Bollywood stars some of their short roles in ads and songs make us believe that hard work is everything to achieve our aim. Along with his gangster's appearances in Gangs of Wasseypur (2012), and Raman Raghav 2.0, he acted as common Indians in 'The Lunchbox' (2013) and 'Manto' (2018).
Nawazuddin's life stories are no less than an inspiration for millions of newcomers. Yes, he had started his career as a commercial ad personality but Nobody can believe that this gangster-looking tough guy had been selling medicines to a chemist in Vadodara for a year. If such a chemist guy breaks the chain of Nepotism why can't anyone?
Aishwarya Rai
Miss world crown was at the head of Aishwarya Rai in 1994, but no one knows that she had been doing her acting lessons in her college before her Miss world achievement. 'Kandukondain Kandukondain', 'Chokher Bali', 'Raincoat', and 'Provoked' all these dramas and short movies in different languages explain that she never minds showing her appearances in versatile look.
Since she was very curious and unfearful towards her goal, she gave her best and amazing performances in Dhoom 2, Mohabbatein, Jodhaa Akbar, and many more. It's very interesting for all her fans to know that her own family was backing her up in her early movies, made her like other famous self-made Bollywood stars, and her movie: 'Dil Ka Rishta' (2003) was co-produced by her brother and co-written by her mother.
It's really great example of her family support and because of it, she got so many awards in life. Two 'Filmfare Awards', 'Padma Shri' by the Government of India in 2009, and 'Ordre des Arts et des Lettres' by the Government of France in 2012 are enough to show her achievement along with the top dream girls of millions of hearts at her career peak time.
Aishwarya's life decisions are incredibly important for every Bollywood newcomer because she had taken a very wise step to be miss world in 1994 before to be a gorgeous-looking actress in Bollywood, and this is very inspirational and thoughtful.
Manoj Bajpayee
Manoj Bajpayee, a face that has become the best villain in town was once the struggling actor in low-grade Bollywood movies, but he has put his competitors in the dust today. However, he is super busy in versatile roles, today, he started his career with just a one-minute role in 1994.
It's really hard for newcomers to stay positive in the industry with just one minute of acting role-play, but he achieves a big name as self-made Bollywood stars in the industry after getting many short roles in his early life acting career.
Bajpayee is also known for his versatile performance as a villain, supporting actor, and lead actor. Three National Film Awards, four Filmfare Awards, and two Asia Pacific Screen Awards are enough to show his incredible acting abilities without any back supports.
Priyanka Chopra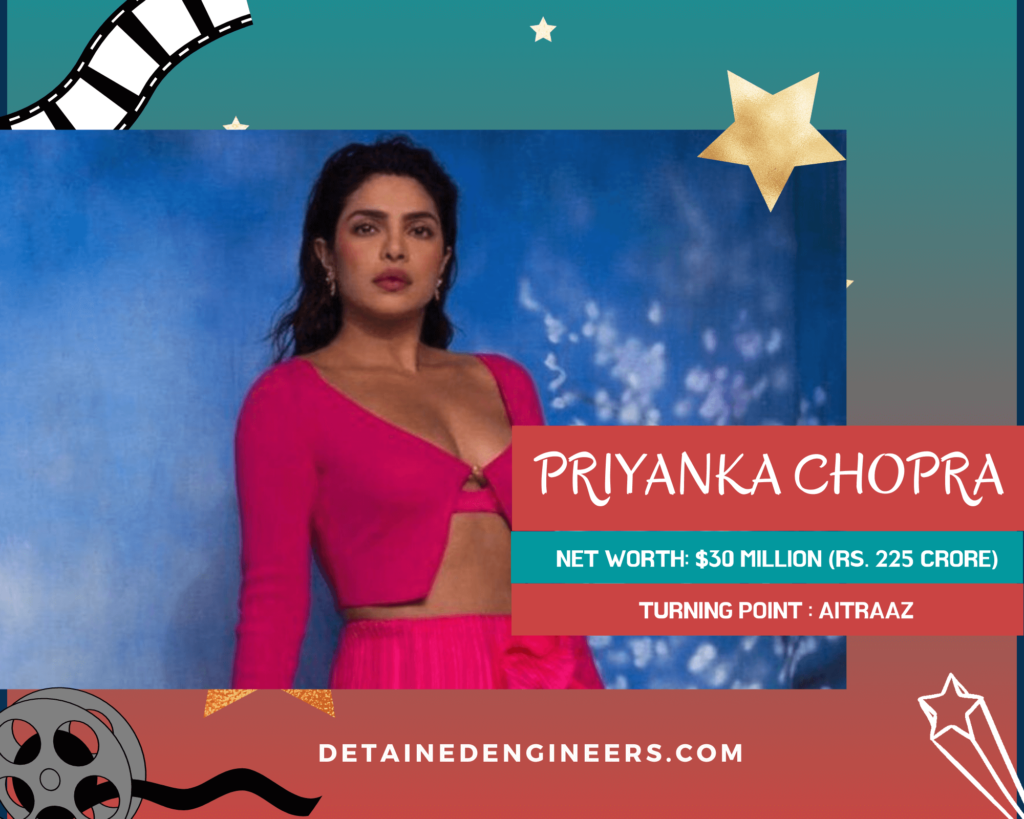 Priyanka Chopra, once appeared as a proposed girl in Salman khan's movie, 'Mujhse Shaadi Karogi' finally became the wife of Nick Jones (non-Indian blood) but her miss world of 2000 achievement can be a good inspiration for all acting girls.
Priyanka first appeared in a Tamil movie, Thamizhan in 2002, but she never looked back after her first breakthrough and she worked in different movies with some controversial characters, like a troubled model in 'Fashion' and a negative role in 'Aitraaz' and '7 Khoon Maaf'.
Not only in Bollywood but she like other self-made Bollywood stars has done some fantastic roles in Hollywood with big names like Dwayne Johnson, and this can be a big inspiration for every newcomer.
Pankaj Tripathi
Like all students of an acting school, Pankaj Tripathi nailed his skills and dreamt to be a big star one day, but his early age role as a girl is still very interesting for his fans. Pankaj Tripathi came to fame just after his two early worthy roles for his acting career: the first is a commercial ad for Tata Tea, and the second is in the movie — Run.
Kaleen Bhaiyya of Mirzapur, Pankaj Tripathi, has a management degree in Hospitality from the Institute of Hotel Management, Hajipur. So, don't worry if you're willing to be a star and have a different degree with you, you're not going to be bad about your dreams. All you need to be focus and action towards your real work happiness as he did. He is one of them who are most deserving self-made Bollywood stars.
You can also see here 10 Most Popular Stars From Ott Platforms in India
Madhuri Dixit
Madhuri Dixit had never thought that she would be called a Dhak Dhak girl for millions, but soon she broke many hearts after getting married who was totally alien to her fans. By profession, her husband was a doctor and that was unexpected for her millions of Fans. she worked with all three Khans, Big B, Anil Kapoor, but never felt uncomfortable working with the fresh faces of Bollywood, and complete more than 70 films.
She got her first leading role in the drama, Abodh, but she received her first breakout in 1988 with the movie, Tejab featured with Anil Kapoor, and her all-time favorite dancing moves at the song of 'Ek do, teen', which made her profile as inspirational self-made Bollywood stars, today.
Ayushmann Khurrana
Ayushmann Khurrana an actor that has never found any shame working as a TV host, a singer who never thought his acting skills were always better than his songs, and a father of two still looks newly passed out from a reputed urban college. Anshuman Khurana made his mark as a self-made Bollywood stars with his widely watched movie 'Vicky Donor', but it is an interesting element for his fans that Anshuman has won the second season of the reality television show 'MTV Roadies' in 2004.
However, Khurana's performance in Andhadhun and a cop role in Article 15 won him two back-to-back Filmfare Critics' Awards for Best Actor, he still doesn't mind working in short movies or such plays that inspire society and anyone who still worries about being an outsider in the industry.
Deepika Padukone
Deepika is one of the highest-paid actresses in Bollywood at present, but as a teenager, her first wish was to win in the national level badminton championship.
She started as a badminton player because her father was a badminton player, and soon after she become a fashion model, and without any hesitations, she started her acting career in 2006 to be the next superstar like others self-made Bollywood stars with a Kannada film, 'Aishwarya', 'Om Shanti Om' become the biggest part of her career and being an outsider in the industry, she was never afraid of working the big roles in many remarkable movies like, 'Yeh Jawaani Hai Deewani', 'Bajirao Mastani', and 'Chennai Express.
Padukone's next big desire is to be the top-rated Hollywood actress, and for that, she already spread her career wings from the action movie 'XXX: Return of Xander Cage'. However, it will be totally humorous for every badminton player if you ask them acting just even a short Vlog, but Deepika had transformed her life and her entire career by shifting every good opportunity in life.
You also can see here Top 10 Best Must Watch Indian Web Series
Read more about Bigg-Boss Winners: CLICK HERE..

Read More Self-Made Bollywood Stars