Best movies that you must watch before you die:
When it comes to the best content movies, no one can beat Bollywood. So here is the list of movies that you must watch bollywood movies before You die. It has hit the Bollywood and world's largest film industry Hollywood in terms of output and each. There are billions of diehard fans worldwide who love to watch Indian movies based on different genres. We have a great collection of outstanding performance-based movies from historical drama, true stories, inspiring stories, and many more. I am going to share some must watch Bollywood movies that can change your life. Let's start
You must watch Bollywood Movies from different genres:
Badla
Badla film was adorned with Taapsee Pannu and Amitabh Bachan. Taapsee played the role of a murderer who murdered her lover, but she claims that she did not do it. The story exposes the murder mystery and Badal Gupta (Amitabh Bachchan), a lawyer by Naina Sethi (Tapsee Pannu), trying to guess the real killer and their motive.
Badla types of movies are the turning point that has changed the concept of conventional Bollywood movies because women are the heroes of this film. The main motive of this movie is to show a ruthless successful businesswoman and give a poignant statement. However, it is one of the tremendous must watch Bollywood movies that successfully grabbed audiences' attention.
Kahaani
Vidya Balan starrer Kahaani is a captivating thriller from start to end, and Vidya proved her ability yet again by single-handedly carrying the film forward on her firm shoulders. Most of all think that Bollywood movies revolve around male characters, and males have been prominent in almost all movies.
The film shows an attack of poisonous gas in the Kolkata metro and leaves thousands of dead. Vidya Bagchi (Vidya Balan), who played the role of pregnant software engineer, travels to India from London searching for her missing husband, Arnab Bagchi.
See the list of 10 most underrated Hindi Movies
It shows the struggle of a pregnant woman who exposes the involvement of the intelligence department in the matter, and the entire story is even more complicated and dense. In this story, the murder of every person who tried to help Vidya created a sense of fear in her, but she fought bravely for her unborn child and a missing husband.
A Wednesday
In this movie, Naseeruddin Shah played the role of "The Common Man and Anupam Kher play the role of "Prakash Rathod, Commissioner of Mumbai Police. One dialog that audiences cannot forget was, "I don't want you to associate any religion to what I am doing." Are you curious to know how it is different from the rest of other Bollywood movies?
It shows the power of a "common man" who doesn't succumb to the system. No movie showed a "common man" power before; that's why it is counted as one of the best movies yet. In the pipeline of must watch bollywood movies, I will give space it also.
Rang De Basanti
Rang de Basanti is one of the must watch bollywood movies before you die that is something every youth related to them. Have you noticed what has changed in our country? We can say one thing that changes is the government.
The film was successful showed the hurt and anger that the youth of the nation feels to see corruption snatching their lives. We can learn one thing from this movie that we can't solve all matters through violence.
Pink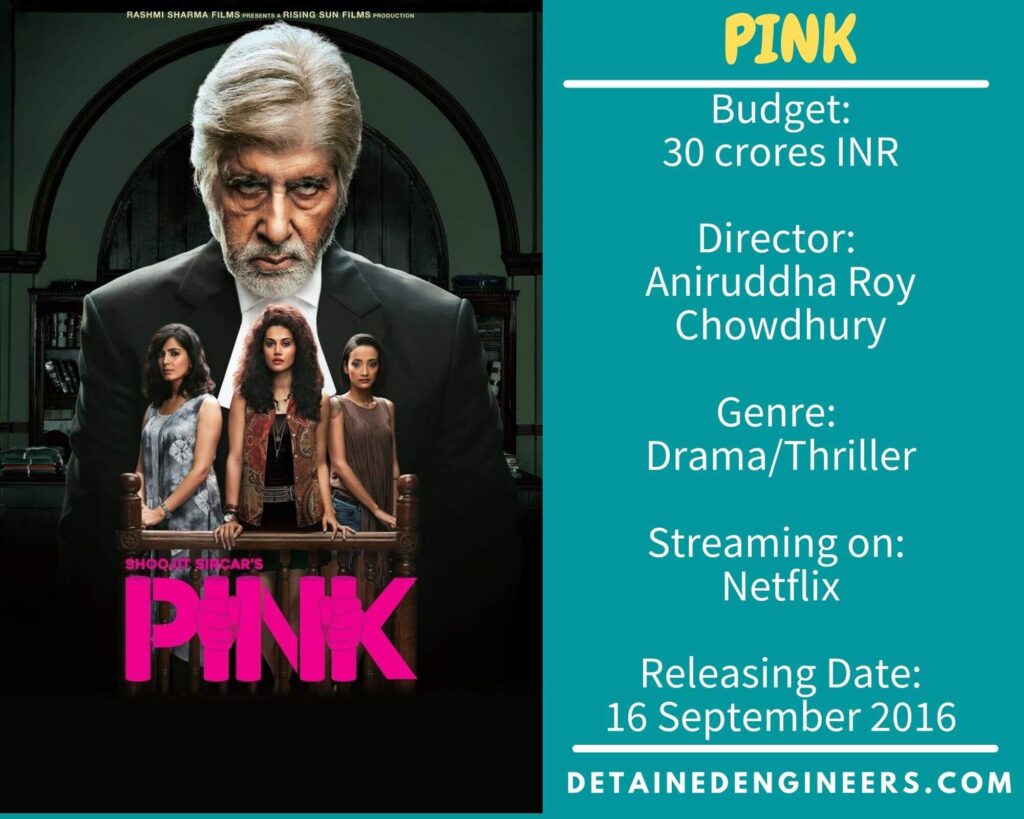 If you still have not watched the movie ' Pink,' it is the right time to enjoy the film with your entire family, giving a profound message to society. Whenever a rape incident happens in the city, people talk about the victim's relationship with the attacker, the time of the day, and the victim's dress.
The timid middle class immediately heaves a sigh of relief that they know the girl was drunk and skimpily dressed. They think about why she needs to go outside late at night. This nonsense idealogy strips the rapist of all blame. Our middle class feels that rapes are common for those women whose dresses are seductive or drunk. The movie challenges the deepest remnants of feudal ideology. You must watch bollywood movie to help us have a world with a better relationship based on mutual respect and love.
Tumbbad
Maybe you are one of them who want to know the best horror movie ever made in India that is the perfect combination of wonders and horrible components. One such movie is the horror-thrilled Tumbbad that keeps you up all night. Instead of showing strike fear of the monster, Tumbbad makes you aware of the devil inside us humans. The ending of every horror movie should be pleasant, and Tumbbad was successful about it.
3 Idiots
Movies like 3 Idiots have exposed the structure of education, which shows how things are imposed on the youth and what they want to do is ignored. Aamir Khan is portrayed throughout the film as a magical boy who does not panic in any situation and finds a quick solution to it.
The story keeps you hooked in every part and gives the message to do what your heart tells you; you can succeed in that. It is a perfect combination of emotions and comedy from commence to end. It is one of the must watch Bollywood movies in Indian cinema history.
Shahid
Rajkumar Rao starrer Shahid is a Hindi-language biographical drama film directed by Hansal Mehta. If you are tired of watching classic Hindi movies, I think Shahid is for you. The movie shows a lawyer character who was arrested on allegations of conspiring against the state in 1994.
Shahid helps those people who are accused of terrorism. In his short tenure, he got 17 acquittals for his clients. The Supreme Court has acquitted Fahim Ansari from the allegation of the 2008 terror attacks in Mumbai after Shahid's death, and Shahid proved in a lower court that there is not sufficient evidence against Ansari. The film shows how innocent people are sent to jail while they did not commit that crime.
Taare Zameen Par
It is one of the movies that not only entertain but also aware you. The purpose of this film is to reflect the attitude of parents towards their children, the expectations they have and the shortcomings in the attitude shown by this film. The film is adorned with actors like Aamir Khan and Darsheel Safari.
In this film, Aamir portrays the role of a teacher who not only forces his children to study out of fear of being hit with a stick, but also teaches a great deal to the children in sports. I think every parent must watch this movie.
Zindagi Na Milegi Dobara
Director Zoya Akhtar has portrayed the place of friends in life, their importance, and their need. The story of the film is exciting and straightforward as well. Through the movie 'Zindagi Na Milegi Dobara,' the stars have tried to bring the fun of life and the real fund of living in front of everyone. Masala films have dominated Bollywood for a long time; in such a situation, 'Zindagi Na Milegi Dobara' makes the audiences think. However, these are must watch bollywood movies that can change your life.