Here's a selection of movies on mental health that educate people about how devastating mental illnesses may be if they're ignored.
There are still a lot of embarrassing, shameful, and funny incidents happening to the real mental health victims, which is also showcased in movies on mental health, today. The rest of the un-affected people believe such issues are nothing but totally full of drama and attention-grabbing elements that are created for self-profit for a particular situation. Yes, it is somehow true because people take advantage by claiming that they're ill with issues like depression, anxiety, and other mental disorders.
In simple terms, if you're surrounded by educated people who can easily understand science, your problems will be visible; however, if you're surrounded by uneducated people, no one will notice you, and they will most likely take you to religious preachers for better treatment, which is completely different from the scientific perspective.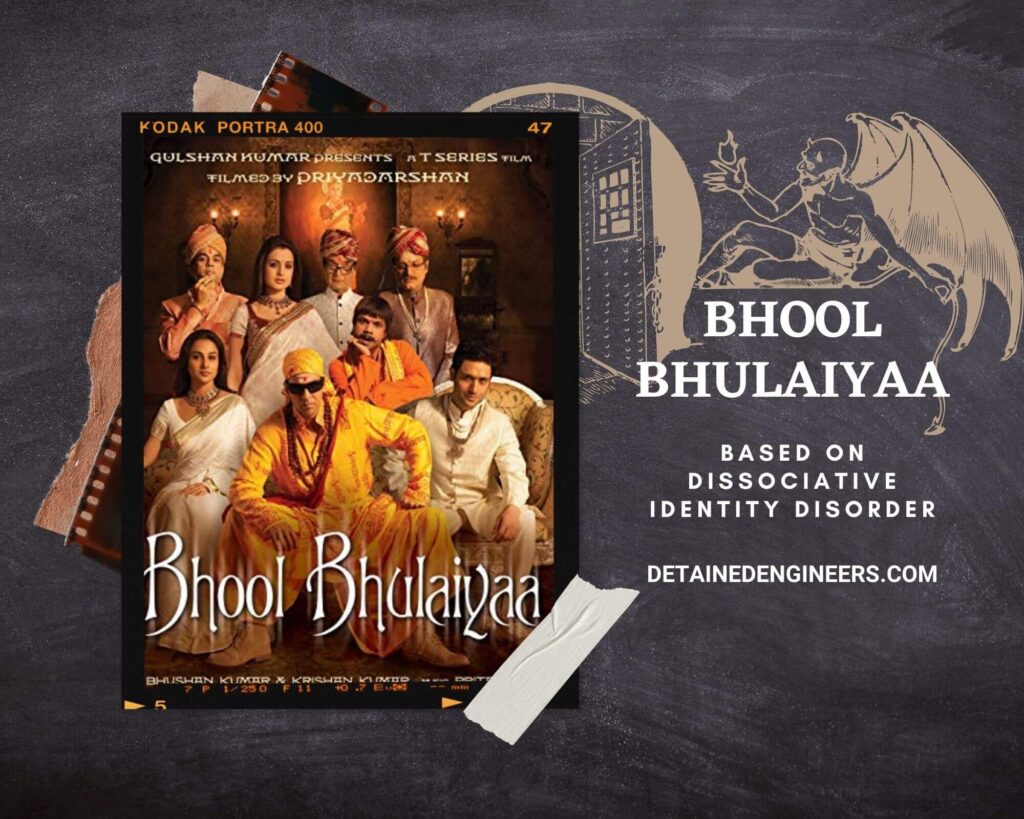 Bhool Bhulaiya (Based on Dissociative Identity Disorder)
The film, which starred Akshay Kumar, Vidya Balan, Anisha Patel, and Paresh Rawal, became so popular movies on mental health and did a wonderful business that made many directors of different languages adapt the plot to depict how dangerous or scared a character may become as a result of mental illness.
The tale revolved around an ancient royal palace that was cursed by a woman and later affected the newly formed prince's wife, however, following the arrival of a hilarious Psychiatrist in the palace, it became clear how a mind problem may be so dangerous or violent through a simple-seeming girl.
However, the movie became so confusing to the educated people for taking a stand and to show their own feedback that how to elaborate the story whether it is fictional or based on science, the illiterate people entertained by the thrill, suspense, and horror parts of the movie.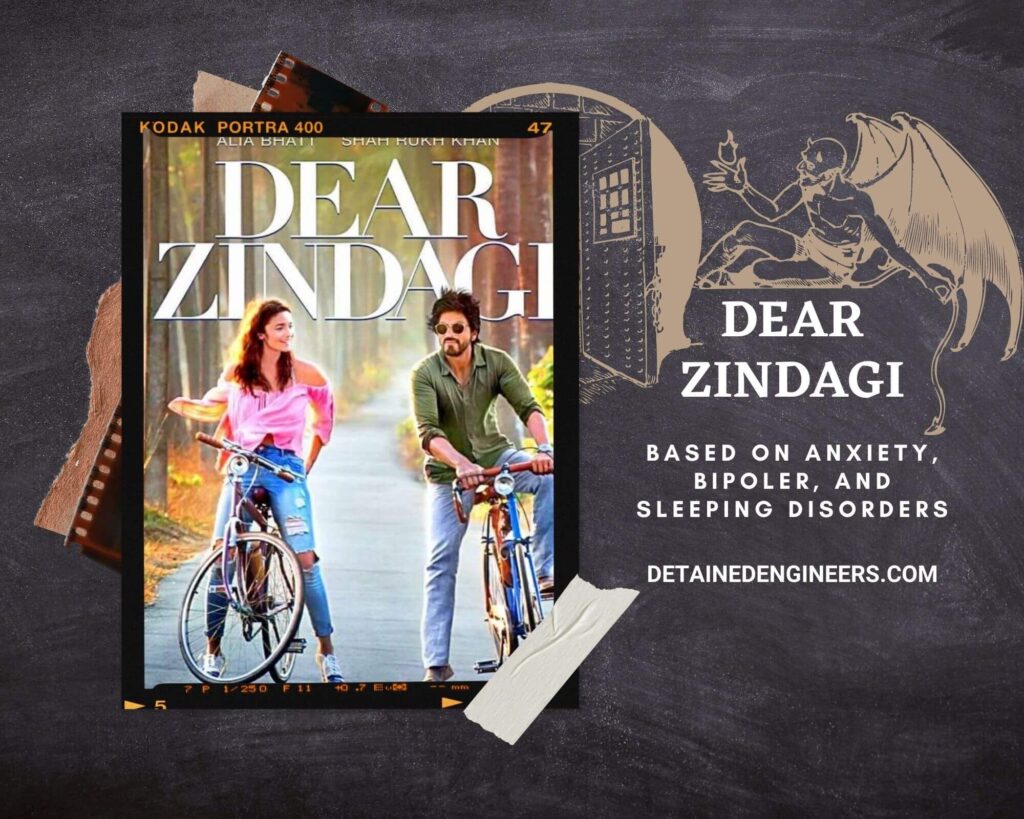 Dear Zindagi (Based on Anxiety, Bipoler, and Sleeping Disorders)
The movie starred Sharukh Khan and Aliya Bhat demonstrating the real cause of Anxiety, Sleeping disorders, and other mental health disorders. Aliya Bhut helps others recognize how specific social, childhood factors can play a major influence in future critical problems and disorders, and how, if not identified and treated immediately, these symptoms can develop into a severe disorder.
Unlike other movies on mental health, this film, in which Alia Bhatt seeks treatment and expresses all of her mental concerns, leads to rehabilitation and identity creation, inspiring many others who are currently suffering from untreated psychiatric issues.
Taare Zameen Par (Base on Dyslexia)
A boy between the ages of 3 and 8, who was the younger son of a strict Indian father who aspired to make his two children the best in society, couldn't tell the difference between D and B in English. Ishaan Awasthi, a character in the film (Taare Zameen Par), has a mind that works like a slate, printing everything he writes larger than chalk, even after wiping something foggy remains. Ishan was suffering from Dyslexia, so using mental science terminology ( a learning disorder) made this movie most noticeable from movies on mental health. Dyslexia affects not only reading and writing, but also speaking, hearing, and the ability to distinguish between words and patterns.
However, the film demonstrated how critical it is to understand the main reason early on before it is too late; the competition causes all parents to be so severe with their own children that they are unable to realize that Dyslexia can have a significant impact on their own children's lives.
Read More: 10 Must Watch Bollywood Movies Before You Die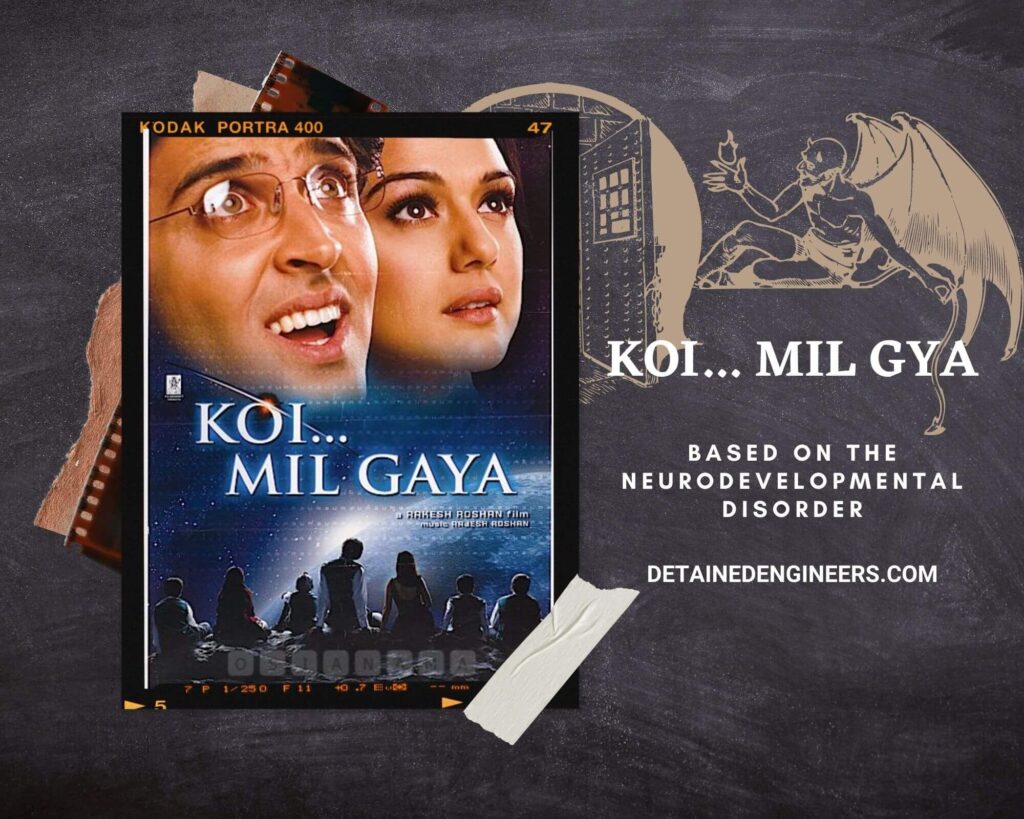 Koi… Mil Gya (Based on the neurodevelopmental disorder)
A science fiction film played by Hritik Roshan was released in 2003, based on the story of an alien's impact on the life of a mentally ill individual. This widely praised Rakesh Roshan film, from the list of movies on mental health, exploring how society treats mentally challenged youngsters, and how they are frequently mocked whenever they are in the mood for a laugh. However, the fictitious part highlighted how a miracle happened with the mentally challenged boy who was consistently overcoming all obstacles in his path, only her mother providing so much love and positivity prior to the miracle.
A positive aspect of the film was that anything may happen to anyone at any time, and we all need to understand, support, and love everyone in our society since God can make anyone incredibly healthy or mentally challenged at any time using various tactics.
Anjana Anjani ( Based on Post-traumatic Stress Disorder)
The story of two people is told in this film as in other movies on mental health. Kiara, who suffers from adjustment disorder, and Akash, who suffers from post-traumatic stress disorder. Ranbir Kapoor and Priyanka Chopra, actors and actresses, played him in the film and played a pivotal role.
Both had attempted suicide due to depression, but meeting an understanding partner in their solitary lives changed their minds. Yes, the entire film stressed the true reason for our problem, as well as the importance of finding an understanding person who can provide life-saving assistance through love, friendship, and caring emotions.
Barfi (Based on Autism Spectrum Disorder )
It's a 2012 Hindi comedy picture, but thanks to big Priyanka Chopra, Ranbir Kapoor, and Ileana D'Cruz, it has a psychological impact and made it the most viewed from the list of movies on mental health category, because it focuses on widespread mental health issues including AUTISM SPECTRUM DISORDER. According to several research and publications, biological defects cause autism, as demonstrated by Priyanka Chopda in the film.
This film has a good impact in that the illness is shown pleasantly rather than as a dark and difficult phase, which sends a positive message to the sufferers. The film attempted to reduce the social shame associated with this disorder.
Tamasha (Based on Borderline Personality Disorder)
From the list of movies on mental health, Tamasha, a Hindi romantic-comedy-drama movie featuring Deepika Padukone and cool boy Ranbir Kapoor, highlighted some major issues caused by a mental illness, Borderline Personality Disorder.
As demonstrated in the movie or part portrayed by Ranbir and Deepika, a person suffering from this disease can experience a variety of moods, behaviors, ideas, and self-images. As illustrated in the film, anyone can have relationship issues, as Ranbir Kapoor and Deepika Padukone have experienced mood swings and their self-image has been distorted.
Kartik Calling Kartik (Based on Schizophrenia)
Karthik Calling Karthik was a thriller film that focused on the life of a person suffering from a psychotic disorder, which entered cast into the list of movies on mental health. Through this fictional story, the film demonstrated how a bright and decent young person could be frustrated in such a situation without being aware of all other key symptoms such as delusions and hallucinations. Schizophrenia is a chronic and severe mental illness that presents itself in a number of ways, including delusions, false beliefs, and hallucinations involving things that do not exist, all of which are depicted in great detail in the film.
The good influence of the film, starring Farhan Akhtar and Deepika Padukone, was that it not only showed how the disease may cause major problems for a normal person, but it also taught the audience how to overcome and deal with such problems in real life.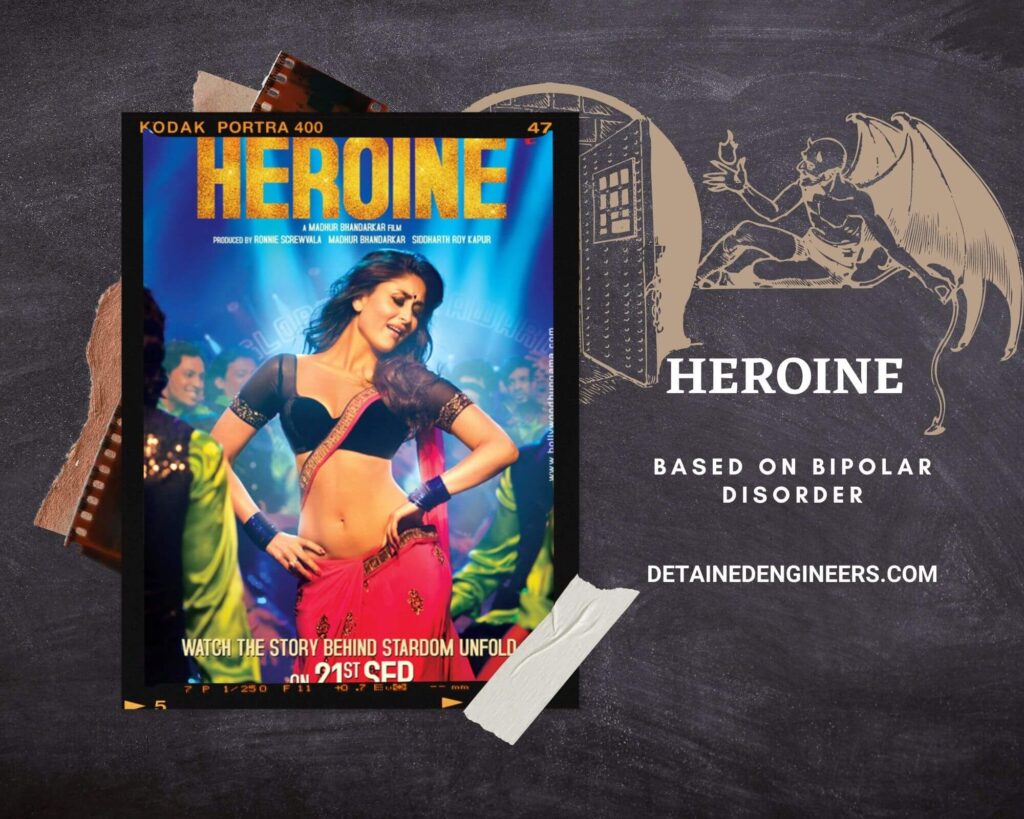 Heroine (Based on Bipolar disorder)
While the film does not exclusively focus on her disease, Bipolar Disorder, it does highlight how the illness contributes to Kareena's career decline.
Bipolar affective disorder, commonly known as manic-depressive disorder, is a mood condition in which persons suffer extreme mood fluctuations that span from mania to depression.
Millions of people are still aware of how they are failing in their career or personal lives, but the film itself to the great list of movies on mental health is exhibiting all of the symptoms to its relevant victims today.
Chhichhore ( Based on Anxiety, Stress, and Suicidal Mental Issues)
Sushant Singh Rajput starred in Chhichhore, which came highly recommended for a reason: the film dealt with exam anxiety, pressure, and suicide. The film's plot depicted its lessons as the best movies on mental health and explained what it's like to be under a lot of stress (something that is very common in our society and is perpetuated by a cut-throat education system).
The film finished on a positive note, discouraging individuals from considering suicide as an escape method in the face of so many positive life influences.
Our Conclusion
Movies and other educational events will not be impacted until society is forced to face some illiterate truths passed down from generation to generation. Mental health concerns are so essential in the globe that many celebrities, who are followed by billions of people, are always urging people to understand the true issues if someone in their close surroundings is suffering from it. We must all learn to recognize and assess whether symptoms will allow us to provide emotional support or hospitalize someone we care about.