Someone said, "Old is Gold," and it will always be the true golden term. This idiom is still very relevant in today's world, and all those 90s kids tv shows are still glad to have been a part of many of the in-house games, TV shows, and outdoor activities that today's youngsters are missing out with. The 90s kids symbolized a big turning point in society, first by participating in the popular Indian-in-door game Antakshri with elderly generations, and then by playing PUBG with today's youth in their spare time.
Let's see how these 90s daydreamed by being a part of some of the most outstanding, full of imagination, excitement, and suspense kid's oriented TV shows that went completely unnoticed by the previous and subsequent generations.
90s Kids Tv shows that you loved to watch at early age
Shaktiman
Shaktimaan was called the Indian superman, he got his supernatural power by blessings of Sant Mahatmas. His supernatural powers were the combination of five elements such as space, air, earth, fire, water. Mukesh Khanna, the Shaktimaan, the one of the famous 90s kids tv shows, was also involved in some controversy, due to the children death case, but his extra 10 minutes of social lessons turned him into a true superhero.
Boogie-woogie
Boogie-woogie was the first Indian dance competition show, broadcast on 'Sony Entertainment Channel,' and judged by a brilliant actor-dancer: Javed Jaffrey with other famous personalities, Naved Jaffery and Ravi Behl. This dancing show was the one of the top 90s kids tv shows.
Hatim
The series was released in 2003 and was part of the best 90s kids tv shows. This fantastic adventure began with the goal of completing the seven untold answers along with Hobbo's most hilarious works. The tale showed various imaginative aspects of fantasy kingdoms, valleys, castles, and mystical jungles. Hatim had to battle with others, demonstrate his charitable acts for the needy, and even finish the mission to meet her lovely princess.
Son Pari
Son Pari was an Indian fantasy-adventure television series, the best 90s kids tv shows, which was broadcast on the 'Star Plus' channel from 2000 to 2004. Fruity, a young girl who loved a fairy named Son Pari and her magical companion Altu, was the heart of this fantasy TV series. Fruity always remembers and asks Son Pari whenever she finds herself in a poor and dangerous situation.
Shaka laka boom boom
Shaka laka boom boom was a fantasy television series about a magical pencil or pen. This magical pen came into contact with a young child named Sanju, and in a matter of minutes, he was drawing all he needed and bringing his artwork to life. The character was the only one who kept the secret to himself, and he also helped others by painting things that were in need. In October of 2000, 'DD National' televised this 90s kids tv shows.
Karishma ka Karishma
Karishma ka Karishma was an Indian science fiction television series, and the one of the best 90s kids tv shows, was created on Star Plus in January 2003. It was a replication of the 1980s American television series Small Wonder. The plot revolves around Karishma, a realistic young human girl robot created by an Indian scientist who kept the fact about Karishma hidden from the rest of the world.
Alif Laila
Based on the stories of the well-known Arabic teles 'One Thousand and One Nights,' 'Alif Laila' uncovers a wealth of enchanting stories from the fantasy world, including Sindbad's adventure, Hatim Tai's journey, Aladeen's journey, and many more, all starring Indian best artist.
Mowgli, and The Jungle Book
This toon character was so much admired and loved among Indian 90s kids that Mowgli and his wild friend's characters become one of the top toon faces for 90s kids tv shows. The journey of a small boy to his teenage adventure and lessons taught by wild friends (animals) in order to save their lives by the demon Tiger of the jungle.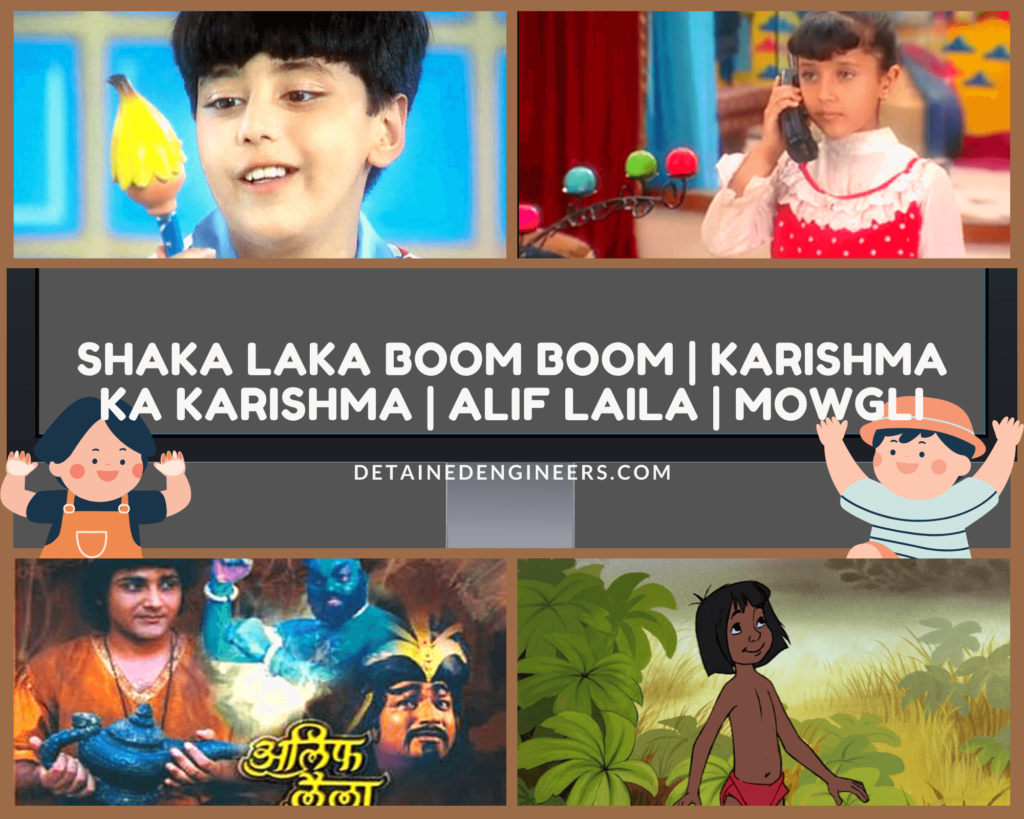 Vikram Betal
The episodes of this well-known television series were based on fantasy, horror, drama, and suspense stories delivered to the king (Vikram) by the ghost (Betaal). After each engaging tale, Betaal plots a difficult question for Vikram in order to free him from Vikram's possession.
Shararat
This family drama with magical elements became the top-tv series along with other 90s kids tv shows. The unique magical line, 'Shring vling sarvling bhoot bhavishya vartaman badling,' was very common in every Indian house, because with the same line three ladies from the same lineage do magics in the most comic way, which was a secret boon they received from their ancestors.
Ham Panch
The tv series, Hum Paanch, tells the story of five sisters and their father, Anand Mathur, who was always frustrated due to his daughter's jobs. Anand always chatted to her late wife with her portrait that hung in the hauling room, which was one of the most interesting aspects of this television series. Anand was often sarcastic in her criticisms of her daughter's work, which made all the kids in the 1990s laugh a lot.
Office Office
Who could forget Mussaddilal and his problems? He was always attempting to fix his issues through various government offices. The major goal of this comedy-based 90s kids tv shows was to depict how a common man struggles to complete routine tasks while dealing with many unpleasant, unexpected, and abusive behavior by government employees. The success of this television series was due to their attention-getting and society-oriented behaviors.
Khichdi
You probably won't need anyone else if you have a comic person around you making you laugh with his funny behavior, but this 90s kids tv shows was a package of funny characters from an Indian joint Gujarati family who were always struggling to find better ways to do their simple jobs in the most hilarious ways. The story became so popular that a Bollywood director created a comedy film based on it after it aired on television.
Vikraal aur Gabraal
Two ghost hunters were known as Vikraal and Gabraal and were part of the best 90s kids tv shows. This television series was based on their thrilling and terrifying adventures, as well as the funny acts of Gabral or Gabru, a short and stocky man, and his intelligent and handsome buddy Vikraal. Many other horror television shows, on the other hand, used to scare the kids in the 1990s, but here they discovered so much joy and happiness after witnessing a fight with a scary ghost and hunting them down.
Aahat
The term itself demonstrates how frightening the world is around us. Kids in the 1990s will never forget how terrifying all of Aahat's episodes were. This horror television show was so popular that it took 20 years to finish all of its episodes. When Aahat launched on Sony Channel in October 1995, it aired its first television episode.
Captain Vyom
Captain Vyom, a superhero, was a member of the army Group, who were fighting devils in space. This 90s kids tv show was based on Star Trek and was the first to enable Indians to imagine themselves as part of the space adventure. Captain Vyom, a prominent character played by Milind Soman, was broadcast on DD metro.
You can also read
Top 10 Best Must Watch Indian Web Series
Raja Aur Rancho
Raja Aur Rancho is a detective series about Raja (Ved Thapar), a detective, and Rancho, his pet monkey. The best performance of a monkey and his well-instructed acts contributed to the success of the entire television series. Every week, this 90s kids tv show, displayed them both, as well as their creativity in solving a variety of crimes.
Khul Ja Sim Sim
Alibaba and the 40 Thieves, a famous line from an Arabian night legend that enabled a TV cast member establish a game show where everyone can pronounce Khul ja Sim Sim, which was fascinated 90s kids tv show. The entire concept of the game show was so brilliant that it made a tremendous splash on Indian television. People were delighted to see all of the episodes of the game, and many of the audience members who typically watched it were chanting loudly and saying "khul ja sim sim" with the game's host, Hussain Kuwajerwala.
Kaun Banega Crorepati
In the year 2000, it was the first time in the history of Indian television that everyone could see Amitabh Bacchan on a little screen. The concept of turning a poor Indian into a millionaire by answering intelligent questions while sitting on the hot seat with Amitabh Bacchan made this game show one of the most memorable events in the country. The success of this reality television show may now be witnessed on our smartphones.
Takeshi's Castle
With Javed Jaffrey's commentary, the Japanese adventurous game show got even more engaging. The several entertaining tasks were full of surprising components, mind-boggling acts, and a laughing madness: made it the best 90s kids tv show.
Our Conclusion
Unfortunately, today's children are so engrossed in their small smartphone world that they are neglecting to walk to the playgrounds, enjoyable outdoor activities, and other health-related activities that are essential for their physical and mental development. For their personality development, 90's kids or today's parents must differentiate and teach how to engage with online games and movies, while playing healthy activities.
You can also read
10 Must Watch Bollywood Movies Before You Die